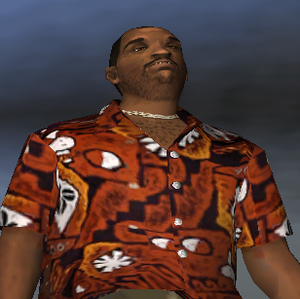 Victor "Vic" Vance (credited as "Supplier" in GTA VC) is a minor, but key character in Grand Theft Auto: Vice City (circa 1986), and the protagonist of Grand Theft Auto: Vice City Stories (circa 1984).
In GTA Vice City Stories, Victor was the oldest of his two siblings. When Pete was sick of asthma, he joined the army but was kicked out because he was tricked by his sergeant Jerry Martinez. Throughout the game, he tries to make a living so he can pay for his brother's medical bill. He meets a woman named Louise, Phil Cassidy's sister, and killed her abusive husband Marty when he tried to turn her into a prostitute. After that, he leads his own gang and Lance comes to Vice City to help him. Victor gets involved with the Mendez Brothers and eventually gets into a gang war. The Mendez Brothers kidnapped and killed Louise. In retaliation, Victor kills the brothers to avenge Louise. Two years later (in GTA Vice City), Victor was killed in a drug deal with the Foriellis by Ricardo Diaz's henchmen. Lance, Victor's younger brother, joins forces with Tommy Vercetti (the protagonist of GTA VC) to avenge Vic's death.
Victor is the first protagonist in GTA to have a death on-screen, the next being Johnny Klebitz, who was killed by Trevor Philips in Grand Theft Auto V. 
In GTA VCS Victor does not have an accent, but in GTA VC he has a very thick Latin accent, although he is Colombian.
One of Vic's clothes resemble the default clothes of Carl Johnson. Franklin Clinton can also be customized to look like CJ.
Not chronologically, Vic is the last protagonist in the 3D Universe, but chronologically, he's the first (GTA VCS is set in 1984), and Claude is the last (GTA III is set in 2001, 17 years after VCS).
Victor is the first person Tommy Vercetti talks to in GTA Vice City. He is also the first person in the game to be killed, alongside Harry and Lee.
His name is never said in GTA VC, just being referred to by "my brother". Lance is the only person to say this, making Lance the only person to mention Vic in GTA VC.
He is just five years younger than Tommy Vercetti, being 28 in GTA Vice City Stories, set in 1984, and 30 in GTA Vice City, set in 1986. 
Ad blocker interference detected!
Wikia is a free-to-use site that makes money from advertising. We have a modified experience for viewers using ad blockers

Wikia is not accessible if you've made further modifications. Remove the custom ad blocker rule(s) and the page will load as expected.