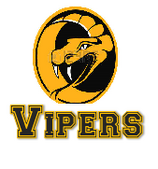 The Vice City Vipers are a professional football team based in Vice City. It uses black, white and gold as its official team colours which are very heavily featured on the official Vipers uniform. The team is owned by Vice City hotel mogul and multimillionaire Josiah Bennett who regularly invests large sums of money in the team. It is supported by the Vice City VIpers Cheerleaders who provide morale raising performances for the Vipers and their fans.
Since 1997 the Vice City Vipers have been coached by retired footballer Jose Pimsoll who enforces a strict training regime to keep the team in optimal performance condition.
The Vice City Vipers were originally founded as a professional team 1975. For most of its early history the team was known as the Vice City Mambas using their now historic "helmeted snake" logo. in 1997 the Mambas were bought by multimillionaire Josiah Bennett who invested a significant sum of money to completely overhaul the team. The old name and logo were discontinued in favour of the modern branding in an effort at forging a new team identity which could be respected by football authorities.
Several of the team's older players were retired in order to bring fresh new talent into the team and retired Mambas Quarterback Jose Pimsoll was hired as coach. Lincoln Stadium in downtown Vice City was selected as the team's official home stadium complete with a team clubhouse on site.
Retired Players
Edit
Known Players
Edit
The Vice City Vipers are known to undergo one of the most intense training regimes ever seen in American Football. This training regime was enacted by the team's coach Jose Pimsoll in an effort at ending the team's long losing streak.
Ad blocker interference detected!
Wikia is a free-to-use site that makes money from advertising. We have a modified experience for viewers using ad blockers

Wikia is not accessible if you've made further modifications. Remove the custom ad blocker rule(s) and the page will load as expected.