Sorata Kanda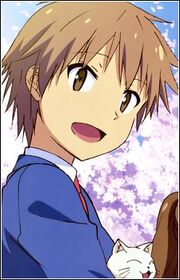 is the male protagonist of 
The Pet Girl of Sakurasou
light novel and anime series.
He is a second-year student living in room 101 of the Sakurasou Dormitory. He was kicked out of the standard school dorms as he refused to abandon the white cat he had picked up, due to strict rules of bringing a stray animal or pet within the dorms and he was transferred to the Sakurasou Dormitory. As many of the Sakurasou Dormitory residents have outstanding grades and art skills, he often feels plain and normal among them.
He is later chosen by Chihiro to watch over Mashiro and take care of her through her daily life, a task which he was first a bit reluctant to do, but later grows accustomed and eventually becomes fond of his job.
Appearance
Edit
[To be Added...]
Personality
Edit
[To be Added...]
Background
Edit
[To be Added...]
[To be Added...]
Relationships
Edit
[To be Added...]
[To be Added...]
[To be Added...]
Ad blocker interference detected!
Wikia is a free-to-use site that makes money from advertising. We have a modified experience for viewers using ad blockers

Wikia is not accessible if you've made further modifications. Remove the custom ad blocker rule(s) and the page will load as expected.