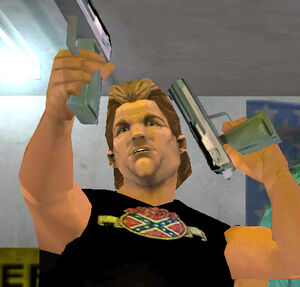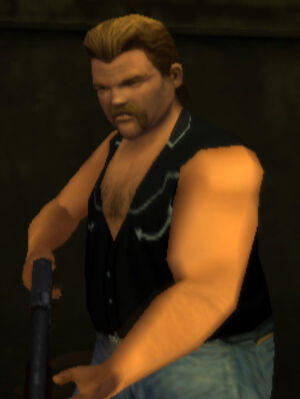 Phil Cassidy is a main character in Grand Theft Auto: Vice City Stories, Grand Theft Auto: Vice City, and a minor character in Grand Theft Auto: Liberty City Stories and Grand Theft Auto III, all chronologically. Phil is featured as a war veteran and a heavy artillery arms dealer, selling protagonists military-grade weapons such as grenades and rocket launchers.
1984: GTA Vice City StoriesEdit
Phil is introduced to Victor Vance by Jerry Martinez. Jerry sends Victor to help Phil get rid of people that are giving him trouble. Then, Phil gives Victor a few missions. In 1984, Phil sports a handlebar moustache, but it was removed by 1986.
In Cassidy's second chronological appearence, he is hired by Tommy Vercetti to pull off a bank robbery in the mission The Shootist. After the robbery in The Job, Phil hires Tommy to work with him and get fixed with firepower. The biggest event is the mission Boomshine Saigon. In the said mission, Phil invites Tommy over to check out a Boomshine bomb he had set up, wired to a remote detonator. The remote dosen't work, so Phil changes its batteries for fresh ones sitting by the bomb. Now standing a meter away from the powerful explosive, he accidently pulled the detonator's trigger, detonating the bomb and blowing off his left arm. Phil, drunk at the time, just bursts out laughing and falls onto the floor, with blood gushing from where his arm should be. Tommy then drives Phil to an ex-army surgeon to be patched up.
1998: GTA Liberty City StoriesEdit
Phil makes a short appearence in the mission More Deadly Than the Male, collecting the weapons Toni Cipriani had got during the mission. Military weapons can be bought at his gun store, Phil Cassidy's Fully Cocked Gun Shop.
In the mission Arms Shortage, Claude is sent by corrupt LCPD cop Ray Machowski to go to Phil's shop and help him defeat the Colombian Cartel from stealing his weapons. In the mission, Phil claims he lost his arm in Nicaragua, but it is revealed in GTA VC he actually lost it in the boomshine explosion. Phil may be making this up to hide the truth about the boomshine explosion accident, or because he actually thought he was in Nicaragua during "Boomshine Saigon", which is said in his dialogue when driving him to the surgeon. Phil's backstory was simply retconned.
Phil appears in the third most games in the series, with a total of four appearances (Johnny Klebitz and Patrick McReary (if you count his cameo in the credits of The Lost and Damned) also appear in four games).
In the GTA III mission "Arms Shortage", Phil shoots his Carbine Rifle with just one arm, which is impressive.
Ad blocker interference detected!
Wikia is a free-to-use site that makes money from advertising. We have a modified experience for viewers using ad blockers

Wikia is not accessible if you've made further modifications. Remove the custom ad blocker rule(s) and the page will load as expected.