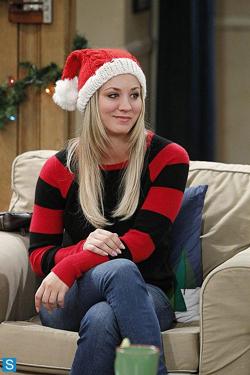 Penny Hofstadter (née "Unknown")' is the series' first and always main female protagonist. She lives in Apartment 4A with her husband Leonard Hofstadter across the hall from Sheldon Cooper, and Amy Farrah Fowler, who live in apartment 4B where Penny used to live. Her full first name is possibly "Penelope" as implied by "The Barbarian Sublimation", and her maiden name has never been revealed, but due to her recent marriage to Leonard, her last name is Hofstadter. She unknowingly married her ex-boyfriend Zack Johnson. That marriage was annulled in "The Thanksgiving Decoupling".
An aspiring, but mostly unsuccessful actress, she was born on a farm near Omaha, Nebraska, and worked at The Cheesecake Factory as a waitress until she quit in "The Occupation Recalibration" (S7E13) to take up acting full time. Penny was the original female lead in the show before being joined by Bernadette Rostenkowski-Wolowitz and Amy Farrah Fowler and in season 8 started working at the same company as Bernadette.
She has always been Leonard's love interest since the pilot, with the two dating briefly in the first episode of the second season for most of the third season, and they rekindled their romance in "The Recombination Hypothesis". As of "The Gorilla Dissolution", she and Leonard became engaged and were married at the start of season 9 in "The Matrimonial Momentum".
Even though she is considered part of the guys' social group, she represents the "dumb blond" for viewer context in the series with a lot of street smarts and communication skills to compensate for her lack of academic knowledge. As the series progresses, her knowledge of geeky subjects even surprises her.
Ad blocker interference detected!
Wikia is a free-to-use site that makes money from advertising. We have a modified experience for viewers using ad blockers

Wikia is not accessible if you've made further modifications. Remove the custom ad blocker rule(s) and the page will load as expected.