Mikhail Faustin was a minor antagonist of Grand Theft Auto IV, and a mentioned character in The Lost and Damned. He and his best friend Dimitri Rascalov moved to Liberty City years prior to GTA IV.
Drug Addictions
Edit
Mikhail is known to be on drugs. In Do You Have Protection?, he yells at Dimitri a couple of times. He does hug him at one point, saying he "f*cking loves him".
Main Article: The Master and the Molotov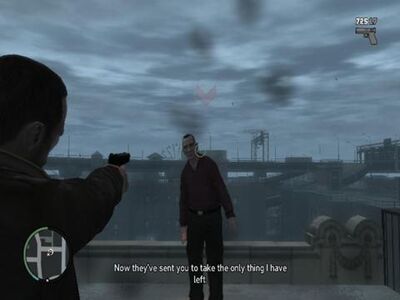 If the player calls Mikhail's cellphone and listens to the answering message, it's possible to hear what Mikhail may have been like before becoming aggressive. In the voice-mail recording, he is calm and politely tells the caller to "contact him at his home" when he is available or "as an alternative leave [him] a message".
Ad blocker interference detected!
Wikia is a free-to-use site that makes money from advertising. We have a modified experience for viewers using ad blockers

Wikia is not accessible if you've made further modifications. Remove the custom ad blocker rule(s) and the page will load as expected.