Claude
 is a character in the
Grand Theft Auto
series who appears as the protagonist of 
Grand Theft Auto III
, and as a minor character in
Grand Theft Auto: San Andreas
. There is no voice actor for Claude, as he does not speak in any of his appearances. Claude first appeared in
1992
, racing
Carl Johnson
twice. After
Farewell, My Love...
, Claude and his girlfriend
Catalina
leave San Andreas and go to Liberty City, where they become criminals for the next 9 years. Their relationship ended in
2001
, when Catalina betrayed Claude. She shot Claude with 2
pistols
, but luckily, Claude lived. He is then arrested, but is saved by his friend
8-Ball
. Claude spends the next few weeks doing work for people (GTA III starts during Catalina's betrayal), and sees Catalina a few times. In
the final mission of GTA III
Claude finally kills Catalina to rescue his new girlfriend
Maria
. After the credits Maria can be heard talking to Claude, but her voice is stopped by a mysterious gunfire. It is unknown if Claude killed her, or someone else did.
Guess what Catalina and Claude were doing at the time.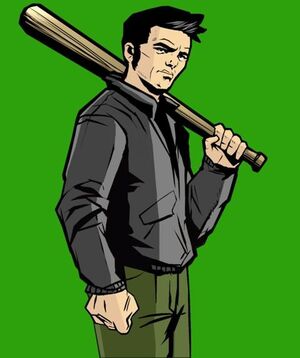 Ad blocker interference detected!
Wikia is a free-to-use site that makes money from advertising. We have a modified experience for viewers using ad blockers

Wikia is not accessible if you've made further modifications. Remove the custom ad blocker rule(s) and the page will load as expected.