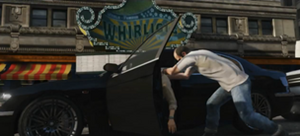 Carjacking is a feature available in all Grand Theft Auto games, appearing as the main feature in all games. It is about the player stealing an occupied or unoccupied vehicle. It is very simple, especially if the car is unoccupied, but there may be some consequences for stealing a car (ex. the cops coming after you). This is what the series is named after; "Grand Theft Auto" is a slang term for vehicle theft.
Ad blocker interference detected!
Wikia is a free-to-use site that makes money from advertising. We have a modified experience for viewers using ad blockers

Wikia is not accessible if you've made further modifications. Remove the custom ad blocker rule(s) and the page will load as expected.