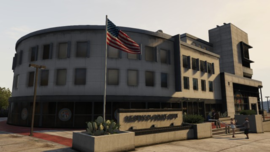 Bullworth Police Station is a police station located in the port city of Bullworth. Located on the corner of Pierce Avenue and Crenshaw Street it is the headquarters of the Bullworth Police Department. As a central command station it handles all official police duties and sees to the dispatching of officers on a city-wide level.
It incorporates a detective division, a crime scene investigation unit and general patrol officers into its official capacity. In 2001 a vehicle impound lot was built onto the rear of the station and additional cells were added along with an improved detainee processing area.
The following police vehicles can be found at the station;
The image used to represent the Bullworth Police Station is that of the Vespucci Police Station seen in GTA V. This image remains the sole property of Rockstar Games and has been used to represent the station.
Ad blocker interference detected!
Wikia is a free-to-use site that makes money from advertising. We have a modified experience for viewers using ad blockers

Wikia is not accessible if you've made further modifications. Remove the custom ad blocker rule(s) and the page will load as expected.