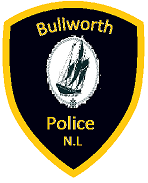 "Vigilance and Duty"
―Motto of the BPD
The Bullworth Police Department (BPD) is the police department which serves the city of Bullworth, New Langdon.
Description
Edit
According to its official website the Bullworth Police Department was founded in 1850. Despite its small size it is a well-funded and equipped police department that employs seventy full-time police officers supported by thirty auxiliary officers as well as non-sworn civilian personnel. It is highly dedicated and vigilant operating patrols throughout the city on a daily basis to deter would-be criminals. It also holds a complete operational status over Bullworth and Woodbury meaning that it is the only law enforcement agency in the Bullworth-Woodbury urban area - despite the presence of a small NOOSE divison.
The department operates a campus patrol unit, as an additional rostered duty assigned to its officers, providing law enforcement services for Bullworth High School and Bullworth Academy. It combats any unruly student behaviour carried out by students such as, drinking, drug use, fights or disordely behaviour. It also provides campus security support when required. Officers are known for their compassionate but dutiful service and their commitment to protecting their community. They are not overtly aggressive, like some police departments, but will instead try to reason with a criminal before resorting to more aggressive tactics.
It does not employ an ongoing recruitment campaign due to it only being budgeted for its standing garrison of police officers. Instead, it utilizes recruitment strategies as required such as when an older officer retires or an existing officer opts to be reassigned elsewhere. This allows it to maintain an effective personnel number without creating financial strains by having more officers than it can afford to employ. The department patrols the semi-incorporated town of Woodbury which is served by an additional ten police officers from the town.
Structure
Edit
Police Commissioner
Deputy Police Commissioner
Ranks
Inspector
Deputy Inspector
Captain
Lieutenant
Sergeant
Detective
Officer
Notable Personnel
Edit
Police Stations
Edit
Bullworth
Edit
Franklin Heights Police Station
Equipment 
Edit
While on patrol officers make use of two standard service vehicles; the Bravado Gresley and Vapid Stanier, which are based on the Dodge Durango and the Ford Crown Victoria, respectively. Well-funded by a careful budget the Bullworth Police Department's vehicles are very effective in their patrol roles. Each vehicle serves a distinct purpose; the Gresley serves as a general patrol vehicle while the Stanier serves a tandem role as the primary patrol and pursuit vehicle. The department uses the black and white livery colour scheme used by a number of police departments across the country with its logo painted on the driver's and front passenger's doors. All vehicles carry the standard red and blue halogen lightbars commonly seen on police patrol cars in the United States.
To support its patrol officers the Bullworth Police Department also uses a Buckingham Maverick painted in its livery to provide aerial support. A Brute Enforcer is used by the six man NOOSE division to provide specialist armed support to combat heavily armed offenders. It also owns a number of Dinka Thrust motorcycles which are used for general patrol duties and pursuit support operations.
Weapons and other equipment
Edit
Bullworth Police Department officers are equipped with a range of equipment on their gun belts and in their cars. As standard issue equipment they carry a pistol, police baton, tazer and pepper spray as well as other standard service equipment such as a torch and a two-way radio. Officers will alternate between their pistol and tazer when attempting to apprehend a suspect depending on the specific situation. Some officers will also carry a pump action shotgun in their patrol vehicle but this is limited to specific cases where the carrying of such a weapon is necessary.  Patrol officers always carry a two-way radio in order to communicate with other officers, report crimes and to call for assistance. The department also runs a gun amnesty programme twice a year to allow local residents to surrender any illegal firearms to police without penalty.
Officers of the Bullworth Police Department wear a standard uniform similar to other police departments. This standard service uniform features a navy blue shirt, navy blue trousers and black shoes. Officers often wear a long sleeved version of the standard uniform shirt with the BPD shoulder patch on either shoulder but may choose to opt for a short sleeved version. An officer may also be seen wearing a navy blue hat featuring the logo and may choose to wear a tie and a uniform jacket as well. In bad weather officers also wear a raincoat and navy blue boots as required. 
The uniforms worn by the officers of the Bullworth Police Department resemble those worn by the Portsmouth Police Department in New Hampshire, which it is based on.
Ad blocker interference detected!
Wikia is a free-to-use site that makes money from advertising. We have a modified experience for viewers using ad blockers

Wikia is not accessible if you've made further modifications. Remove the custom ad blocker rule(s) and the page will load as expected.