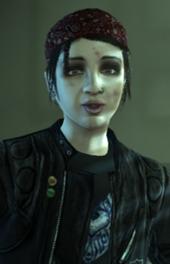 Ashley Butler is a character in Grand Theft Auto IV, The Lost and Damned, and Grand Theft Auto V. She is the girlfriend of Johnny Klebitz, but they broke up when he found out Ashley slept with Billy Grey. Ashley is on drugs, and this is obvious because of how she acts. In GTA V when she, Johnny, Terry Thorpe, and Clay Simons moved to San Andreas in 2013, Johnny got addicted to crystal meth, and got back together with Ashley. But their relationship was shake, since Trevor Philips would often have sex with Ashley. When Johnny confronts him, Trevor murdered Johnny, leaving Ashley mourning over his death. Ashley later dies herself from a drug overdose.
Salvador Real Arrayga seems to be in love with Ashley, despite her drug addiction. This is seen in the TLAD fan fiction mission "Salvador's Holiday".
Also, because of Salvador, Ashley does not appear in the fan fiction GTA V, so like Johnny, she is alive.
Ad blocker interference detected!
Wikia is a free-to-use site that makes money from advertising. We have a modified experience for viewers using ad blockers

Wikia is not accessible if you've made further modifications. Remove the custom ad blocker rule(s) and the page will load as expected.