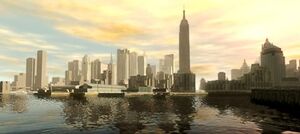 Algonquin is the largest borough in Liberty City. Known residents include Niko Bellic, Roman Bellic, Luis Fernando Lopez, Tony Prince, and Rocco Pelosi (formerly). It is larger than the State of Alderney. It is also the most popular borough, with Star Junction, the possible capital and a place with bright lights.
Ad blocker interference detected!
Wikia is a free-to-use site that makes money from advertising. We have a modified experience for viewers using ad blockers

Wikia is not accessible if you've made further modifications. Remove the custom ad blocker rule(s) and the page will load as expected.